Welcome to the 2020 Alpena 4-H Showcase & Auction!
The Alpena 4-H Showcase dates are August 24th- 28th, 2020.
Public Results https://fairentry.com/Fair/Results/14756
Creating a buyer account Instructions:
https://www.facebook.com/AlpenaFair/photos/pcb.3490325737653287/3490315514320976/
Buyers:
The Alpena County 4-H Market Auction will run Tuesday August 25th at 6:00 PM until Thursday August 27th at 6:00 PM. The Alpena County 4-H Market Re-Sale Auction will run Friday August 28th 12:00 PM - 6:00 PM.
Payments Accepted: Check/Invoice (expected within 15 days)
Confirmation emails of purchase(s) will be sent at the end of each auction confirming winning bids. Buyers will need to confirm destination for their purchases. Examples of this is if animal is a re-sale item, and processor of choice. Buyers will be required to finish arrangements within 4 hours of the end of sale.
Processor's this year are Standard Provision, Bucky's.
All Small animals will go to a private processor on Saturday August 29th. Buyers will be responsible to pick up processed animals Sunday August 30th from the fairgrounds .
Buyers can create their log-in's before the sale by clicking on the "buyer pre-registration sale". Buyers can also contact Michelle Eagling, Alpena's Program Coordinator or an Alpena County 4-H Council Member at anytime between now and the start of the auction and they can get one created one for you.
Michelle- eaglingm@msu.edu or Alpenacounty4H@gmail.com
Please be ready to provide: Buyer Name or Business, Business Contact, Address, Phone, and Email.
**Buyers will have immediate responsibility to report if their animal is a re-sale and/or what processor they choose to use.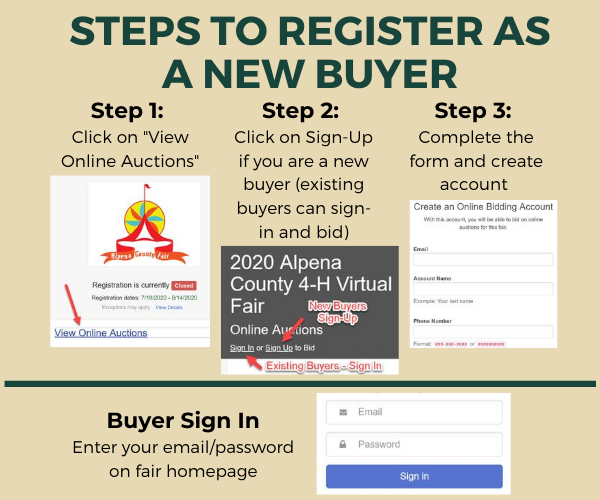 4-H Families:
You will log in with your 4-H Online Account to register for classes.
Market & Breed Classes:
Picture of Youth with Animal: Required
Front View of Animal: Required
Side View of Animal – Left: Required
Side View of Animal – Right: Required
Rear View of Animal: Required
Top View of Animal: Required
There will be a Grand & Reserve placed.
Showmanship Class:
Video URL: Required (URL needs to be from YouTube)
This will be judged in the Danish format, ABC. All youth will receive feedback.
Non-Animal Classes (Arts/Crafts, Sewing, Foods, Etc):
Answer the Question: Please Describe Your 4-H Project: Required
Picture of Youth Holding Project: Required
Project Picture #1: Required
Project Picture #2: Optional
Project Picture #3: Optional
Project Market Binders
Youth who wish to participate in the 4-H Livestock Auction are encouraged to enter their Project Binders from their 2020 livestock projects.

Upload 5 of the best photos documenting the work you put into your record book.

Binders will be due to the MSUE office by September 4th, 2020.
Entries are due by August 14th, 2020. No exceptions. Judging will take place the week of August 17th. Results will be posted during fair week. There are some open classes throughout the livestock and static divisions so there is a little something for everyone!!
Please reach out to Michelle at eaglingm@msu.edu with any questions! 989-354-9878.